Why Choose Urgent Care Over the Emergency Room?
Although they treat many of the same ailments, and for non-life-threatening injuries and illnesses like coughs, colds, sore throats, strains, ear aches, rashes, UTIs, insect bites, headaches, allergies, lacerations, concussions, and dehydration.
Here are the top reasons to choose urgent care over the emergency room when you have a non-life-threatening illness or injury.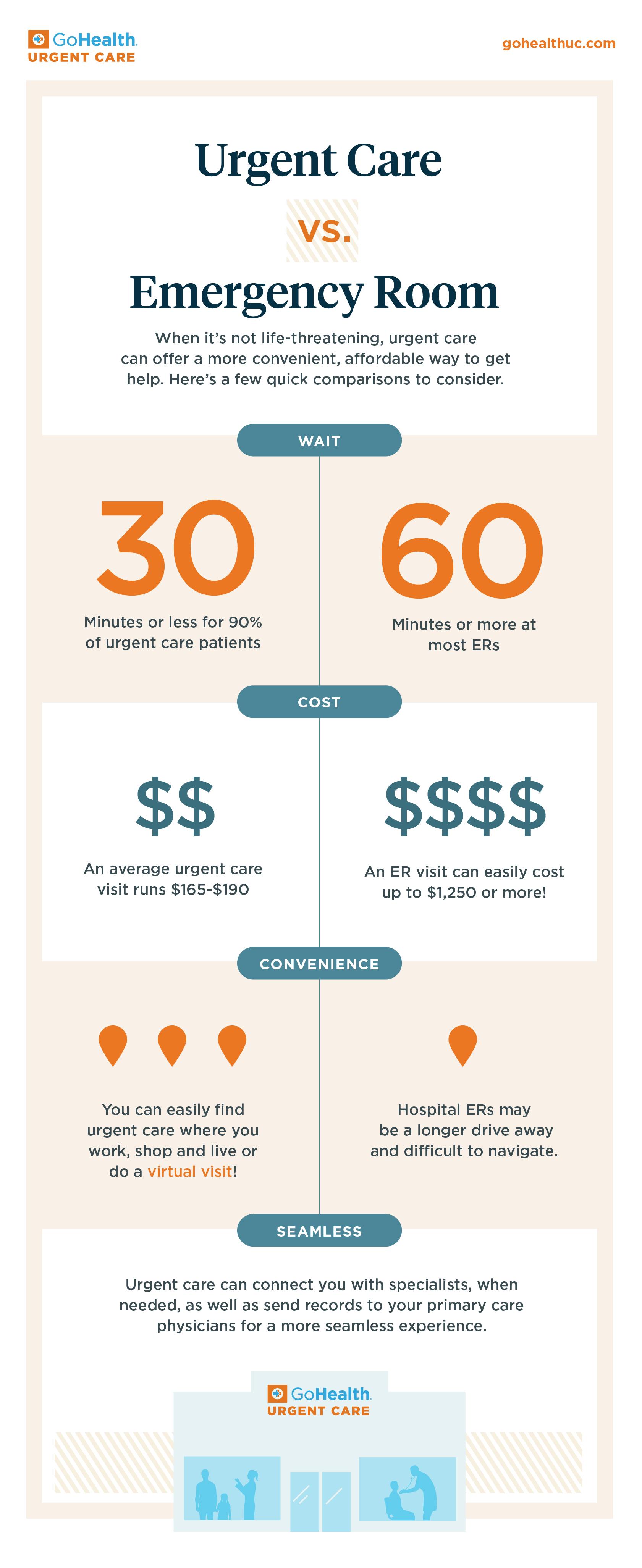 Shorter Wait Time
No one likes to wait, especially when they aren't feeling well. In fact, many people delay getting health care because they don't want to spend the better part of their day in the ER waiting room.
The good news is you don't have to wait too long: 90% of urgent care patients wait 30 minutes or less to see a provider. Wait times at urgent care will always be less stressful than in ER rooms. For some urgent care centers like GoHealth Urgent Care, you can go online to see a handy time clock that automatically shows your current wait time upon arrival. Compare that to the 60 minutes or more you may have to wait at the ER.
More Affordable
Is urgent care cheaper than the ER? You bet. An average urgent care visit runs $165-$190. That's significantly less than a visit to the emergency room, which can set you back as much as $1,250. Urgent care centers like GoHealth Urgent Care are in-network with most insurance plans. 
More Convenient
Urgent care centers make health care accessible by placing centers in locations where people work, shop, and live. Chances are there's an urgent care center near you. Some centers now offer virtual visits to meet patients where they are – so you can spend less time driving around and more time healing.  In addition, some now offer pediatric urgent care - a more comfortable setting than the ER for babies, children and young adults. For GoHealth Urgent Care, we now offer virtual visits in Connecticut and pediatric urgent care in New York.
At, you can view current wait times and save your spot online or simply walk in! Plus, we're open seven days a week, 365 days a year.
Trusted Partnerships
Urgent care centers that partner with trusted major health systems can send your records to your primary care physician for a seamless healthcare experience after your visit. In addition, GoHealth Urgent Care helps patients find medical specialists through partnerships with major health systems.
Make Urgent Care Your First Stop
If you have a minor injury or illness, don't put off getting the care you need. Make urgent care your first stop. Urgent care is a great alternative to the ER, offering extended hours every day of the year.  At GoHealth Urgent Care, we offer an easy check-in process and shorter wait times.
Need care now? Just walk-in or select your location below to find the urgent care center nearest you and save your spot online.