RSV vaccine administered at Dignity Health-GoHealth Urgent Care
The immunization is the first known administration of the FDA-approved RSV vaccine for adults 60+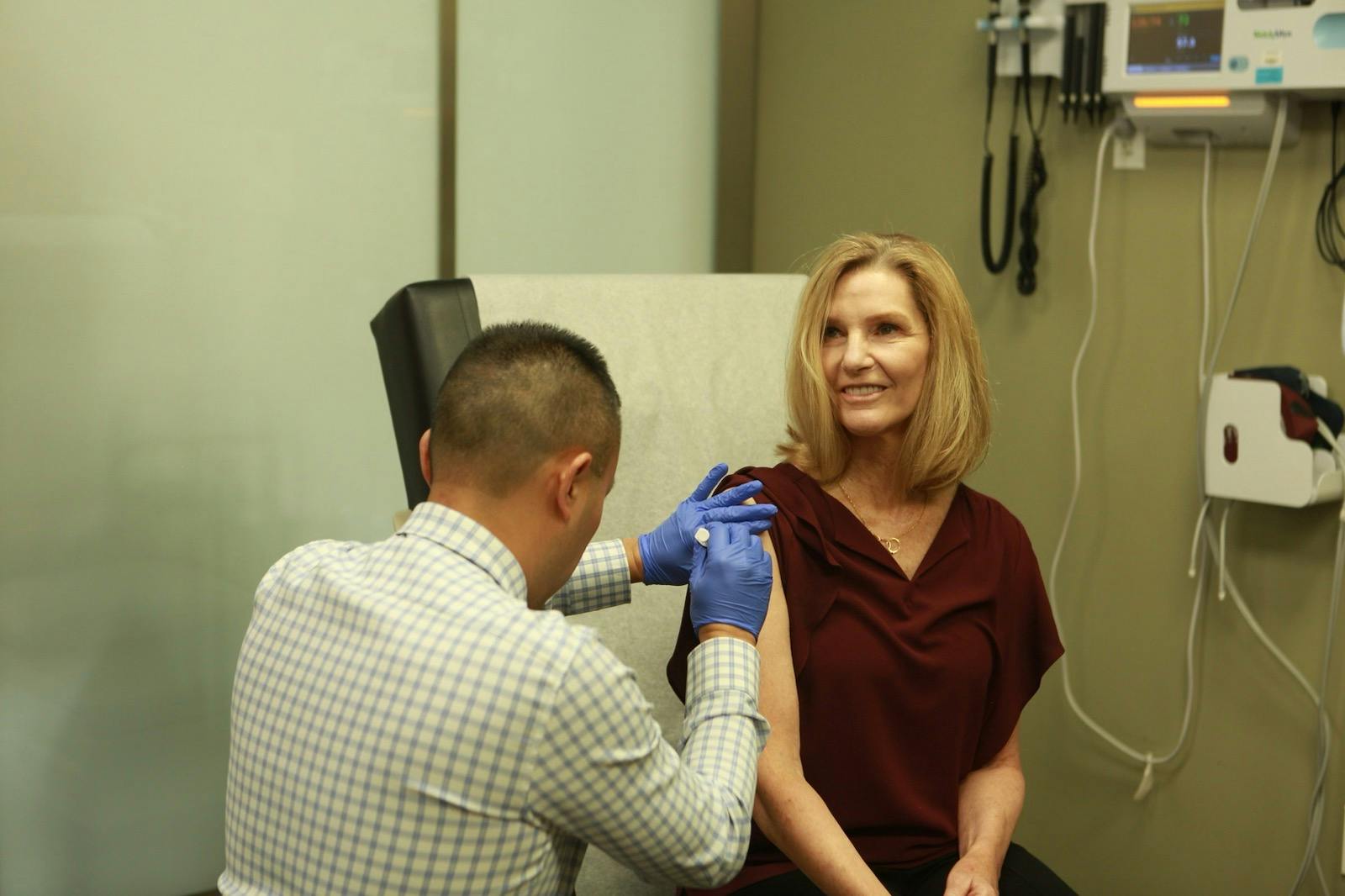 San Francisco, CA (July 19, 2023) – Dignity Health-GoHealth Urgent Care administered what is believed to be the world's first FDA-approved respiratory syncytial virus (RSV) vaccination at its Cole Valley location today. Peggy Dracker of San Rafael, CA, received the immunization from Daniel Kwan, M.D., medical director of Dignity Health-GoHealth.
The vaccine, ABRYSVO, was developed by Pfizer and approved by the Food and Drug Administration (FDA) on May 31, 2023, for adults 60 years and older.
The vaccine will be available later this year at Dignity Health-GoHealth's Cole Valley center, which is located near Golden Gate Park, at 930 Cole Street.
"Urgent care plays a vital role in ensuring that our communities have effortless and convenient access to high-quality healthcare," said Todd Latz, Chief Executive Officer of GoHealth. "Today's first RSV vaccination was a meaningful step forward in public health to fight an increasingly dangerous virus."
New hope for a common and acute virus
RSV is one of the most common viruses in the world. It causes upper and lower respiratory tract infections. Symptoms may be mild, cold-like, or more serious, especially for infants or older adults.
The U.S. Centers for Disease Control and Prevention (CDC) estimates:
●        60,000 to 160,000 older adults are hospitalized, and 10,000 die annually in the United States due to RSV.
●        58,000-80,000 children under 5 are hospitalized, and about 100-300 die each year due to RSV.
The vaccine comes at a crucial time as RSV surged across the country at the end of 2022. Cases increased tenfold between September and mid-November 2022, according to the CDC.
RSV hospitalizations spiked last year too, with about 5.1 out of every 100,000 patients with RSV being admitted to the hospital in mid-November 2022, according to the CDC.  As compared to an estimated 1.1 out of 100,000 in November 2021 and 0.5 out of 100,000 pre-pandemic.
"Congratulations to our Dignity Health—GoHealth Urgent Care teams on this milestone immunization," said Marie President, M.D., chief medical officer for Dignity Health Medical Group — Saint Francis/St. Mary's. "The availability of this vaccine is an important achievement in the prevention of RSV, which can be life-threatening for high-risk populations."
A track record of advancing public health
Dignity Health-GoHealth gained critical experience being on the vanguard of public health during the COVID-19 pandemic.
"We have become a trusted partner in public health," continued Latz. "The Bay Area has turned to us for over seven years for their healthcare needs and have recognized us as innovators through our substantial efforts to keep them safe and healthy during the pandemic, as well as our overall unique and connected approach to on-demand care."
In addition to being among the first urgent care providers in the nation to administer the COVID-19 vaccine, Dignity Health-GoHealth also took the lead in providing:
·         Paxlovid, an FDA-approved medicine to treat adults with mild-to-moderate COVID-19;
·         Lab-based PCR COVID-19 testing;
·         Rapid molecular COVID-19 testing;
·         Rapid on-site PCR testing; and
·         Travel testing on-site at San Francisco International Airport (SFO).
Dignity Health-GoHealth offers patients a wide array of services for non-life-threatening conditions, illnesses and injuries including on-site X-ray services. Visit www.gohealthuc.com/dignity for more specific locations, extended hours of operation and pediatric services.
About GoHealth Urgent Care
GoHealth is an on-demand consumer-centric care platform that serves as the digital and physical front door to the healthcare ecosystem. At GoHealth, we aim to provide timely, accessible and high-quality on-demand care to patients, both virtually and in person, through our technology-enabled and data-driven approach to care and partnerships with market-leading health systems. GoHealth operates nearly 250 on-demand care centers in the greater New York metropolitan area; the Portland, Oregon-Vancouver, Washington, metropolitan area; the San Francisco Bay Area; Hartford and Southeastern Connecticut; Winston-Salem, Charlotte and Asheville, North Carolina; St. Louis and Springfield, Missouri; Oklahoma City; Northwest Arkansas; Delaware and Maryland; the greater Detroit, Michigan metropolitan area; the greater Houston, Texas metropolitan area and Northern Virginia. GoHealth Urgent Care is a portfolio company of TPG Growth, the middle market and growth equity investment platform of TPG, which has more than $114 billion of assets under management.
About Dignity Health
Dignity Health is a multi-state nonprofit network of 10,000 physicians, more than 60,000 employees, 41 acute care hospitals (including Saint Francis Memorial Hospital and St. Mary's Medical Center in San Francisco), and 400-plus care-centers, including community hospitals, urgent care, surgery and imaging centers, home health, and primary care clinics in Arizona, California, and Nevada. Dignity Health is dedicated to providing compassionate, high-quality, and affordable patient-centered care with special attention to the poor and underserved. Dignity Health is a part of CommonSpirit Health, a nonprofit health system committed to advancing health for all people and dedicated to serving the common good.
About Pfizer: Breakthroughs That Change Patients' Lives
At Pfizer, we apply science and our global resources to bring therapies to people that extend and significantly improve their lives. We strive to set the standard for quality, safety and value in the discovery, development and manufacture of health care products, including innovative medicines and vaccines. Every day, Pfizer colleagues work across developed and emerging markets to advance wellness, prevention, treatments and cures that challenge the most feared diseases of our time. Consistent with our responsibility as one of the world's premier innovative biopharmaceutical companies, we collaborate with health care providers, governments and local communities to support and expand access to reliable, affordable health care around the world. For more than 170 years, we have worked to make a difference for all who rely on us. We routinely post information that may be important to investors on our website at https://www.pfizer.com/. In addition, to learn more, please visit us on https://www.pfizer.com/and follow us on Twitter at @Pfizer and @Pfizer News, LinkedIn, YouTube and like us on Facebook at Facebook.com/Pfizer.