Inova Health System and GoHealth Urgent Care Partner to Rapidly Expand Access to On-Demand Care in Northern Virginia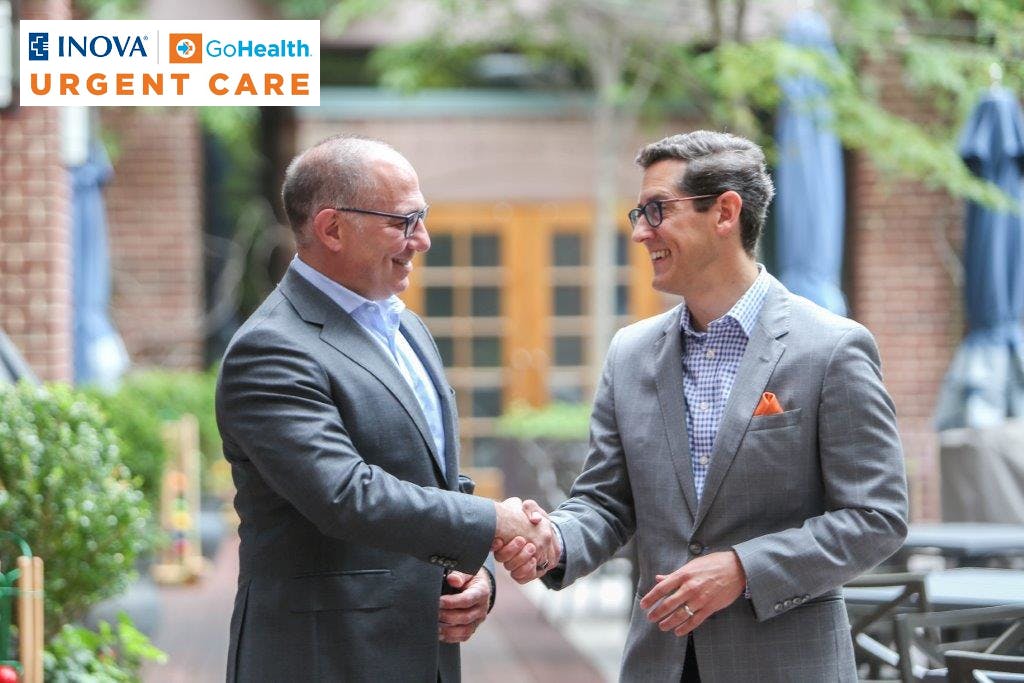 July 27, 2022 ( VA) – Inova Health System, Northern Virginia's leading non-profit healthcare provider, and GoHealth Urgent Care, one of the country's fastest growing, consumer-centric healthcare companies, today announced a new joint-venture to operate urgent care centers and support employers and communities across Northern Virginia. Seven existing Inova Urgent Care locations will transition to new Inova-GoHealth Urgent Care centers later this year, with many additional Inova-GoHealth Urgent Care centers planned to open over the next several years. These centers will offer elevated levels of on-demand care services via in-person and virtual visits to the communities in Northern Virginia and the Washington DC metropolitan area.
"Combining the remarkable care and clinical excellence that Inova has long been known for with GoHealth's innovative, consumer-focused, and technology-enabled approach to urgent care operations will enable us to provide an improved patient experience and more accessibility to urgent care in our communities," said Steve Motew, MD, Chief, Clinical Enterprise, Inova. "By expanding our urgent care services throughout the region, we will ensure our patients have access to the right care, at the right place, at the right time."
The newly named Inova-GoHealth Urgent Care centers will serve patients ages six months and older by providing a wide array of services for non-life-threatening conditions, including flu, fever, earaches, insect bites, sprains, simple fractures, eye injuries and cuts requiring stitches. Once the centers are open, patients will be able to walk in or go online or to the app to check wait times, save their spot and pre-register, ensuring they can see a high-quality clinical provider quickly and effortlessly, virtually or in person. Whenever additional care is needed, patients will be seamlessly connected to world-class primary and specialty care providers within Inova's robust network.  
"Northern Virginia has always been a dynamic healthcare market, and we are thrilled to partner with an innovative and progressive partner like Inova to disrupt the status quo and deliver tremendous care, access and value to the communities we will serve," said Todd Latz, CEO of GoHealth Urgent Care. "Together we will raise the bar for on-demand, omnichannel care and deliver unparalleled patient experiences through patient- and provider-centric technologies, tools and workflows that ensure greater access and higher quality of care."
GoHealth Urgent Care currently operates approximately 200 on-demand care centers, in partnership with other market-leading health systems, across the country. Inova-GoHealth Urgent Care's centers and virtual platform will provide convenient access to care and will be staffed and clinically led by Inova clinicians.
###
About Inova
Inova is Northern Virginia's leading nonprofit healthcare provider. Our mission is to provide world-class healthcare – every time, every touch – to each person in every community we have the privilege to serve. Inova's 20,000 team members care for patients through more than two million patient visits each year across an integrated network of hospitals, primary and specialty care practices, emergency and urgent care centers, outpatient services and destination institutes. 
Inova's five hospitals are consistently recognized by the Centers for Medicare and Medicaid Services (CMS), U.S. News & World Report Best Hospitals and Leapfrog Hospital Safety Grades for excellence in healthcare.
Inova is home to Northern Virginia's only Level 1 Trauma Center and Level 4 Neonatal Intensive Care Unit. Its hospitals have a total of 1,936 licensed beds. More information about Inova can be found at www.inova.org.
About GoHealth Urgent Care
GoHealth is an on-demand consumer-centric care platform that serves as the digital and physical front door to the healthcare ecosystem. At GoHealth, we aim to provide timely, accessible and high-quality on-demand care to patients, both virtually and in person, through our technology-enabled and data-driven approach to care and partnerships with market-leading health systems. GoHealth operates approximately 200 on-demand care centers in the greater New York metropolitan area; the Portland, Oregon-Vancouver, Washington, metropolitan area; the San Francisco Bay Area; Hartford and Southeastern Connecticut; Winston-Salem and Charlotte, North Carolina; St. Louis and Springfield, Missouri; Oklahoma City, Oklahoma; Northwest Arkansas; Delaware and Maryland; Michigan and Texas. GoHealth Urgent Care is a portfolio company of TPG Growth, the middle market and growth equity investment platform of TPG, which has more than $114 billion of assets under management.